Articles
THE IMPORTANCE OF PATIENT-DOCTOR INTERACTION IN THE CONTEXT OF HEALTH COMMUNICATION EXAMINING WITH THE PARTICIPATORY ACTION RESEARCH (PAR) AND ELECTRODERMAL DATA COLLECTION (GSR) METHODS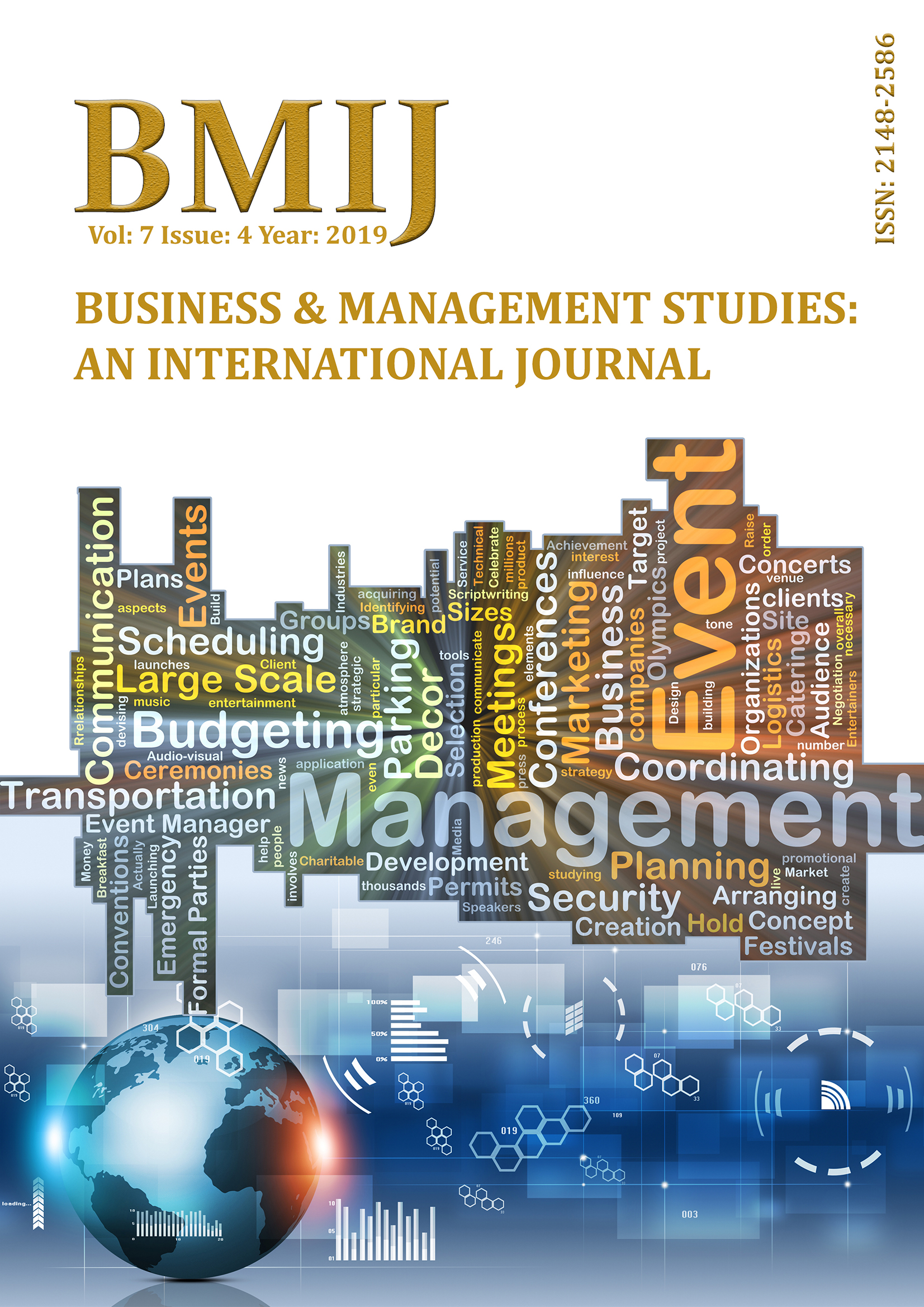 Published 2019-09-20
Keywords
Biometric Data Collection, Electrodermal Activity Measurement (EDA, GSR), Health Communication, Dentist-Patient Interaction Experience, Participatory Action Research

Diş Hekimi-Hasta Etkileşim Deneyimi, Biyometrik Veri Toplama, Elektrodermal Aktivite Ölçümü (EDA, GSR), Katılımcı Eylem Araştırması (PAR), Sağlık İletişimi
How to Cite
AYTEKİN, B. A., & ŞİMŞEK, H. O. (2019). THE IMPORTANCE OF PATIENT-DOCTOR INTERACTION IN THE CONTEXT OF HEALTH COMMUNICATION EXAMINING WITH THE PARTICIPATORY ACTION RESEARCH (PAR) AND ELECTRODERMAL DATA COLLECTION (GSR) METHODS. Business & Management Studies: An International Journal, 7(4), 1209–1224. https://doi.org/10.15295/bmij.v7i4.1144
Abstract
When it is considered within the framework of health communication, the correct and effective management of patient-doctor interaction is on the agenda as one of the most researched problems in different scientific disciplines. In this context, the main objective of the study is to identify how patients are affected during dental surgery operations and to reveal the findings for the correct establishment of patient-doctor interaction.  An interdisciplinary approach is adopted by using a combination of dentistry and communication science perspectives. In this context, 120 patients (70 females, 50 males) underwent dental extraction; during the operations, biometric data were collected in three different phases from 12 patients (electrodermal SCL value). During the whole process, in addition to biometric data, other findings were obtained by participant action research technique based on participatory observation by both researchers. As a result of the research, the results of how to take action in order to strengthen the patient-doctor interaction and make it more comfortable on both sides were obtained. Interdisciplinary and multiple methodology-based approach of the study; the fact that it presents an original and exemplary scientific application structure is considered important in terms of being an example for the studies that are going on in the context of health communication.  
Downloads
Download data is not yet available.
References
Ayaz, E. ve Varol, G. (2018). Namık Kemal Üniversitesi Sağlık Hizmetleri Meslek Yüksek Okulu, Sağlık Yüksek Okulu 1. Sınıf Öğrencilerinde Dental Anksiyete Düzeyi ile İlgili Faktörlerin İncelenmesi. Namık Kemal Tıp Dergisi, 6(3), 96-103.
Aytekin, B. A. (2019). İzleyici ve İçerik Etkileşimi Bağlamında Yeni Bir YouTube Fenomeni Olarak Otonom Duyusal Meridyen Tepki (ASMR) Etkisinin Deri İletkenliği Ölçümü (GSR) Tekniği ile İncelenmesi. OPUS Uluslararası Toplum Araştırmaları Dergisi, 10(17), 1568-1600.
Benedetti, F. (2013). Placebo and the new physiology of the doctor-patient relationship. Physiological Reviews, 93(3), 1207-1246.
Boucsein, W. (2012). Principles of Electrodermal Phenomena. Içinde W. Boucsein (Ed.), Electrodermal Activity (ss. 1-86). Boston, MA: Springer US.
Bulut, E., Poyrazoğlu, E. ve Bek, Y. (2009). Ondokuz Mayıs Üniversitesi Diş Hekimliği Fakültesi öğrencilerinde dental anksiyetenin incelenmesi. Ondokuz Mayıs Üniversitesi Diş Hekimliği Fakültesi Dergisi, 10(2), 16-24.
Critchley, H. D. (2002). Electrodermal Responses: What Happens in the Brain. The Neuroscientist: a review journal bringing neurobiology, neurology and psychiatry, 8(2), 132-142.
Emanuel, E. J. ve Emanuel, L. (1992). Four Models of the Physician Patient Relationship. Journal of the American Medical Association, 267(16), 2221-2226.
Ergüven, S. S., Kılınç, Y., Delilbaşı, E. ve Işık, B. (2015). Bir diş hekimliği fakültesi ağız, diş ve çene cerrahisi kliniğine başvuran hastaların dental kaygı düzeylerinin değerlendirilmesi. Acta Odontologica Turcica, 32(1), 7-11.
Freidson, E. (1970). Profession of Medicine: A Study of the Sociology of Applied Knowledge. New York: Dodd, Mead & Company.
Gray, H. (1918). Anatomy of the Human Body: The Organs of the Senses and the Common Integument (Anatomy of the Human Body (20th ed.). Philadelphia: Lea ve Febiger.
Güven, B. ve Boztepe Taşkıran, H. (2019). Sağlık İletişiminde Doktor-Hasta İlişkisi Modelleri ve İlişki Taraflarının Değerlendirmelerini Tespit Etmeye Yönelik Bir Araştırma. Uluslararası Halkla İlişkiler ve Reklam Çalışmaları Dergisi, 2(1), 7-38.
iMotions. (2017). Galvanic Skin Response: The Complete Pocket Guide. Denmark: iMotions.
Kreps, G. (2003). Trends and Directions in Health Communication Research. Medien & Kommunikationswissenschaft, 51(3-4), 353-365.
Kreps, G. ve Thornton, B. (1992). Health Communication Theory and Practice. USA: Waveland Press.
Lewin, K. (1951). Field Theory in Social Science. New York: Harper.
Martin, B. ve Hanington, B. (2012). Universal Methods of Design. Essex County: Rockport.
McNiff, J. (2002, Ekim 6). Action Research for Professional Development. Erişim tarihi: 18 Haziran 2019, Erişim Linki: http://www.jeanmcniff.com/ar-booklet.asp
Öcek, Z. A., Karababa, A. O., Türk, M., Çiçeklioğlu, M. ve Kandemir, Ş. (2001). Ege Üniversitesi Diş Hekimliği Fakültesi'ne başvuran hastalarda dental anksiyete etyolojisinin değerlendirilmesi. Ege Üniversitesi Diş Hekimliği Fakültesi Dergisi, 22, 121-129.
Parsons, T. (1951). The Social System: The Major Exposion of the Author's Conceptual Scheme for the Analysis of the Dynamics of the Social System. New York: The Free Press Paperback.
Salimpoor, V. N., Benovoy, M., Longo, G., Cooperstock, J. R. ve Zatorre, R. J. (2009). The rewarding aspects of music listening are related to degree of emotional arousal. PloS One, 4(10), e7487.
Shimmer, G. S. R. (2019). Shimmer GSR+ Unit. Erişim tarihi: 18 Şubat 2019, Erişim Linki: http://www.shimmersensing.com/products/shimmer3-wireless-gsr-sensor
Szasz, T. S. ve Hollender, M. H. (1956). The Basic Models of the Doctor-Patient Relationship. Archives of internal medicine, 97, 585-592.
Turabian, J. L. (2018). The enormous potential of the doctor-patient relationship. Trends Gen Pract 1. https://doi.org/10.15761/TGP.1000115
Van Dooren, M., de Vries, J. J. G. ve Janssen, J. H. (2012). Emotional sweating across the body: Comparing 16 different skin conductance measurement locations. Physiology & behavior, 106, 298-304.