Articles
A netnography study examined consumer perception towards cryptocurrency investment during the COVID-19 pandemic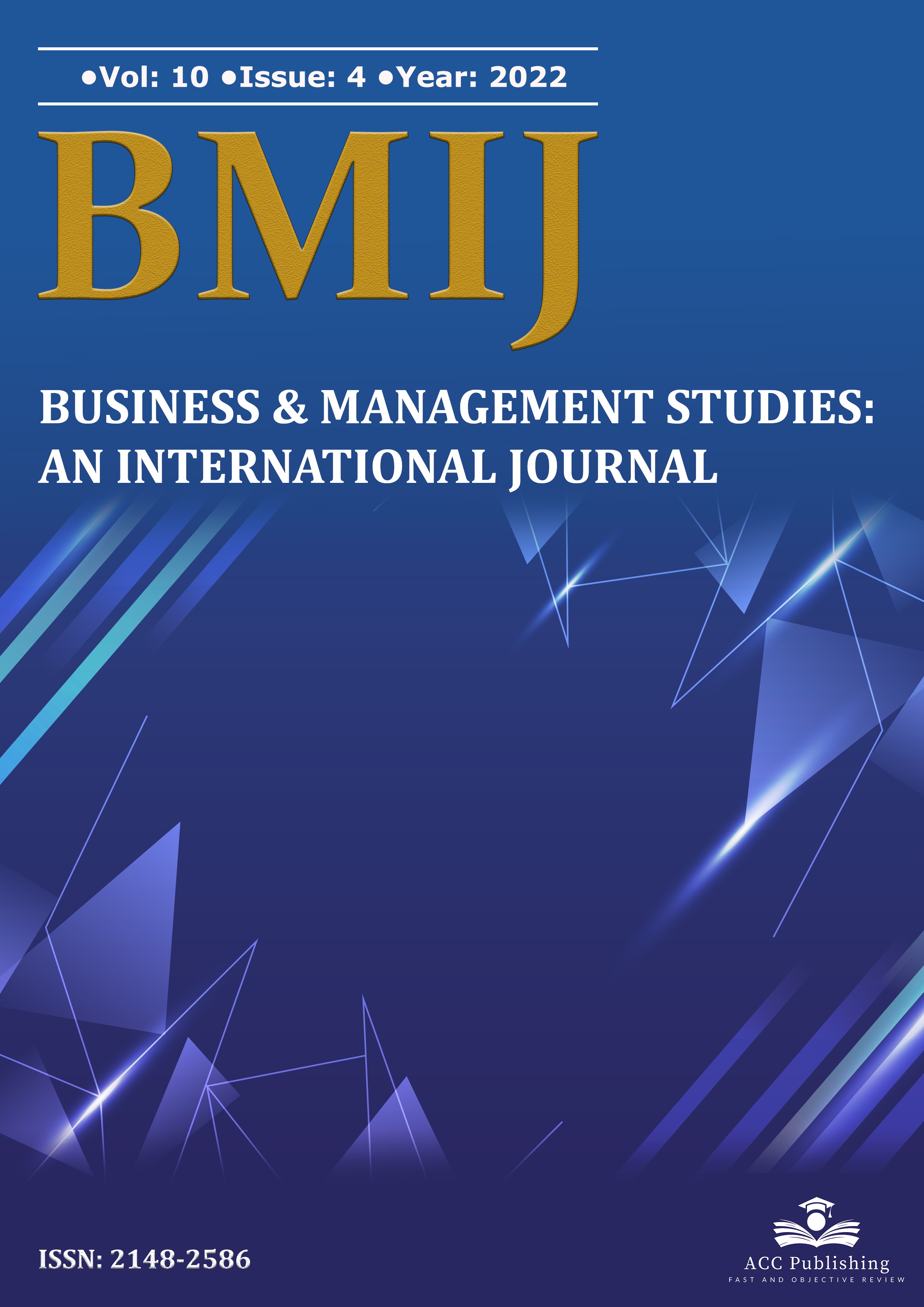 Published 2022-12-25
Keywords
Blok Zinciri, COVİD-19 Salgını, Kripto Para, Netnografi, Twitter ve YouTube

Blockchain, COVID-19 Pandemic, Cryptocurrency, Netnography, Twitter and YouTube
How to Cite
AYTEKİN, B. A., & ULUSOY, T. A. (2022). A netnography study examined consumer perception towards cryptocurrency investment during the COVID-19 pandemic. Business & Management Studies: An International Journal, 10(4), 1380–1396. https://doi.org/10.15295/bmij.v10i4.2151
Copyright (c) 2022 Behiç Alp AYTEKİN- Taylan Ata ULUSOY
This work is licensed under a Creative Commons Attribution-NonCommercial-NoDerivatives 4.0 International License.
Abstract
There is an increasing interest in cryptocurrencies, especially with the change brought to our lives by the COVID-19 pandemic regarding digital platforms. In this context, it is seen that many YouTube channels and Twitter accounts have digital interaction and produce current content about the circulation of digital currency that users have an intense interest in Turkey. Therefore, a three and half years (2019-2022) netnographic field study was conducted focusing on YouTube and Twitter platforms to evaluate interaction trends in the attitudes and behaviours of users about cryptocurrency investments in Turkey and compared to the pre-pandemic period. The study results show that, with the economic recession resulting from the pandemic, people and companies have an increasing interest in cryptocurrencies, especially in terms of saving and investment. This reveals that the increase in interest has transformed the pre-pandemic negative perception, and users have taken steps to interact and invest more.
Downloads
Download data is not yet available.
References
Akbulut, U. 2009. "Paranın Hayatımıza Girişi." Date of Access: 06.08.2021.
Aristoteles. 2000. Politika. Translators Mete Tunçay. İstanbul: Remzi Kitabevi.
Azizoğlu, A. and Altunışık, R. 2012. "Postmodernizm, Sembolik Tüketim ve Marka." Tüketici ve Tüketim Araştırmaları Dergisi: 4 (2): 33-50. http://betadergi.com/ttad/yonetim/icerik/makaleler/33-published.pdf
Baker, S. R., Farrokhnia, R. A., Meyer, S., Pagel, M. and Yannelis, C. 2020. "How Does Household Spending Respond to an Epidemic? Consumption during the 2020 COVID-19 pandemic." The Review of Asset Pricing Studies: 10 (4): 834 862. https://doi.org/10.1093/rapstu/raaa009
Bankacılık Düzenleme ve Denetleme Kurumu. 2013. "Bitcoin hakkında basın açıklaması." Date of Access:11.05.2021. https://www.bddk.org.tr/Duyurular/Bitcoin-Hakkinda-Basin-Aciklamasi/512
Baudrillard, J. 2017. "Tüketim Toplumu: Söylenceleri Yapıları." Translators Ferda Keskin and Nilgün Tutal. İstanbul: Ayrıntı Yayınları.
BBC News Turkish. 2021. "Bitcoin: Türkiye'de Kripto Paralara Artan İlgi." Date of Access:14.05.2021.
Buchholz, K. 2021. "These Are the Countries Where Cryptocurrency Use is Most Common." Date of Access: 11.09.2021. https://www.weforum.org/agenda/2021/02/how-common-is-cryptocurrency/
Chohan, U. W. 2017. "A History of Bitcoin." Social Science Research Network. https://doi.org/10.2139/ssrn.3047875
Çaglar, U. 2007. "Elektronik Para: Enformasyon Teknolojisindeki Gelişmeler ve Yeni Ödeme Sistemleri." Manas Üniversitesi Sosyal Bilimler Dergisi: 9 (17): 177-186. https://dergipark.org.tr/tr/pub/manassosyal/issue/49948/640099
Çarkacıoğlu, A. 2016. "Kripto-Para Bitcoin." Sermaye Piyasası Kurulu Araştırma Dairesi. https://www.spk.gov.tr/SiteApps/Yayin/YayinGoster/1130
Çavuş, M. F. 2006. "Bireysel Finansmanın Temininde Kredi Kartları: Türkiye'de Kredi Kartı Kullanımı Üzerine Bir Araştırma." Selçuk Üniversitesi Sosyal Bilimler Enstitüsü Dergisi: 0 (15): 173-187. http://dergisosyalbil.selcuk.edu.tr/susbed/article/view/572
Caymaz, G. 2021. "Visa, Kripto Para Harcamalarında Öncü Olmak İçin Ciddi Adımlar Atıyor." Date of Access: 12.08.2021.
https://tr.investing.com/news/cryptocurrency-news/visa-kripto-para-harcamalarnda-oncu-olmak-icin-ciddi-admlar-atyor-2242264
Chang, E. 2017. "Mark Cuban Confirms Stakes in Twitter and Bitcoin." Date of Access: 24.10.2021.
https://www.bloomberg.com/news/videos/2017-10-03/mark-cuban-confirms-stakes-in-twitter-and-bitcoin-video
Chapkanovska, E. 2019. "Who Accepts Bitcoin in 2020?" Date of Access: 06.08.2021 https://spendmenot.com/blog/who-accepts-bitcoin/
CoinMarketCap. 2021. "Cryptocurrency Prices, Charts And Market Capitalizations." Date of Access: 15.05.2021. https://coinmarketcap.com/
CoinMarketCap. (2021). "Bitcoin Price Today, BTC Marketcap, Chart, and Info." Date of Access: 14.05.2021. https://coinmarketcap.com/currencies/bitcoin/
Cuthbertson, A. 2020. "Analistler Tartışıyor: Koronavirüs, Bitcoin'i Etkiledi mi?" Date of Access: 15.05.2021. https://www.indyturk.com/node/124356/ya%C5%9Fam/analistler-tart%C4%B1%C5%9F%C4%B1yor-koronavir%C3%BCs-bitcoini-etkiledi-mi
Data Reportal, Digital2020: Turkey. (2020). Access Adress: https://datareportal.com/reports/digital-2020-turkey
Demir, E., Bilgin, M. H., Karabulut, G., & Doker, A. C. (2020). "The Relationship Between Cryptocurrencies and COVID-19 pandemic." Eurasian Economic Review, 10(3), 349-360.
Dhaliwal, S. 2022. "Tesla Begins Accepting Dogecoin On Online Store, Displays Pricing Of Several Merchandise Directly In Meme Currency." Date of Access: 14.01.2022. https://www.benzinga.com/markets/cryptocurrency/22/01/25050400/tesla-begins-accepting-dogecoin-on-online-store-displays-pricing-of-several-merchandise-di
Di Pierro, M. 2017. "What is the Blockchain?" Computing in Science Engineering: 19 (5): 92-95. https://doi.org/10.1109/MCSE.2017.3421554
Donthu, N. and Gustafsson, A. 2020. "Effects of COVID-19 on Business and Research." Journal of Business Research: 117: 284-289. https://doi.org/10.1016/j.jbusres.2020.06.008
European Central Bank. 2012. "Virtual currency schemes." Date of Access:12.05.2021. https://www.ecb.europa.eu/pub/pdf/other/virtualcurrencyschemes201210en.pdf
European Central Bank. 2015. "Virtual currency schemes: A further analysis." Date of Access:12.05.2021. https://data.europa.eu/doi/10.2866/662172
Fidan, M.; Dilek, S. and Esev, A. 2019. "Dünden Bugüne Paranın Tarihi ve Türkiye'de Kağıt Para Kullanımı." Kilis 7 Aralık Üniversitesi Sosyal Bilimler Dergisi: 9 (18): 141-162. https://doi.org/10.31834/kilissbd.613107
Godbole, O. 2021. "Bitcoin Breaks Out, Near $58K, After Visa Adds Support for Stablecoin USDC." Date of Access: 11.06.2021. https://www.coindesk.com/bitcoin-breaks-out-near-58k-visa-adds-usdc-anchorage
Goel, A., & Gupta, L. (2020). "Social Media In The Times of COVID-19." Journal of clinical rheumatology.
Harari, Y. N. 2016. Hayvanlardan Tanrılara Sapiens: İnsan Türünün Kısa Bir Tarihi. Translator Ertuğrul Genç. İstanbul: Kolektif Kitap.
Hobbs, J. E. 2020. "Food Supply Chains During the Covid-19 Pandemic." Canadian Journal of Agricultural Economics/Revue Canadienne d'agroeconomie: 68(2): 171-176. https://doi.org/10.1111/cjag.12237
Hootsuite & We Are Social. 2019. "Digital 2019 Global Digital Overview." Date of Access: 11.09.2021
Hussain, W. (2020). "Role of Social Media in COVID-19 Pandemic." The International Journal of Frontier Sciences, 4(2), 59-60.
Karaoğlan, S.; Arar, T. and Bilgin, O. 2018. "Türkiye'de Kripto Para Farkındalığı ve Kripto Para Kabul Eden İşletmelerin Motivasyonları." İşletme ve İktisat Çalışmaları Dergisi: 6 (2): 15-28. https://dergipark.org.tr/tr/pub/iicder/issue/49883/639429
Kızıl, H. 2018. "Özellikleri Açısından Sembol." Şarkiyat; 10 (4); 1306-1327. https://doi.org/10.26791/sarkiat.445411
Kose, B. 2020. "Bitcoin Borsası BtcTurk, A Milli Takım'a Sponsor Oldu: Büyük İmza Yarın!" Date of Access: 15.08.2021. https://uzmancoin.com/bitcoin-btcturk-milli-takim/
Kozinets, R. V. 2009. "Netnography: Doing Ethnographic Research Online." SAGE Publishing.
Kozinets, R. V. 2010. "Netnography: The Marketer's Secret Weapon." White paper, 1-13.
Kraaijeveld, O. and De Smedt, J. 2020. "The Predictive Power of Public Twitter Sentiment for Forecasting Cryptocurrency Prices." Journal of International Financial Markets, Institutions and Money: 65: 101188. https://doi.org/10.1016/j.intfin.2020.101188
Lewin, K. 1946. "Action Research and Minority Problems." Journal of Social Issues: 2: 34-46. http://dx.doi.org/10.1111/j.1540-4560.1946.tb02295.x
Levitt, H. and Son, H. 2017. "Jamie Dimon slams Bitcoin as a 'Fraud'." Date of Access: 24.10.2021.
https://www.bloomberg.com/news/articles/2017-09-12/jpmorgan-s-ceo-says-he-d-fire-traders-who-bet-on-fraud-bitcoin
Metzler, S., Günnemann, S. and Miettinnen, P. 2019. "Stability and Dynamics of Communities on Online Question-answer Sites." Social Networks; 58; 50-58. https://doi.org/10.1016/j.socnet.2018.12.004
Mnif, E., Jarboui, A., & Mouakhar, K. (2020). "How the Cryptocurrency Market Has Performed During COVID 19?" A multifractal analysis. Finance research letters, 36, 101647.
Nakamoto, S. 2008. "Bitcoin: A Peer-to-peer Electronic Cash system." Date of Access: 17.04.2021. https://bitcoin.org/bitcoin.pdf
Norbutas, L.; Ruiter, S. and Corten, R. 2020. "Believe It When You See It: Dyadic Embeddedness and Reputation Effects on Trust in Cryptomarkets for Illegal Drugs." Social Networks: 63: 150-161. https://doi.org/10.1016/j.socnet.2020.07.003
Odabaşı, Y. 2012. Postmodern Pazarlama. İstanbul: Mediacat
Ossinger, J. 2018. "Roubini Says Bitcoin is the 'Biggest Bubble in Human History'." Bloomberg. Date of Access: 24.10.2021.
https://www.bloomberg.com/news/articles/2018-02-02/roubini-says-bitcoin-is-the-biggest-bubble-in-human-history
Ödeme ve Menkul Kıymet Mutabakat Sistemleri, Ödeme Hizmetleri ve Elektronik Para Kuruluşları Hakkında Kanun 2013. (Turkey). Date of Access: 22.10.2021.
Pirinçci, A. E. 2018. "Yeni Dünya Düzeninde Sanal Para Bitcoin'in Değerlendirilmesi." Uluslararası Ekonomi Siyaset İnsan ve Toplum Bilimleri Dergisi:: 1 (1): 45-52. https://ssrn.com/abstract=3389184
Ricardo, D. 2016. Ekonomi Politiğin ve Vergilendirmenin İlkeleri. Translators Tayfun Ertan. İstanbul: Belge Yayınları. (Original work published 1817).
Rogstad, I. 2016. "Is Twitter Just Rehashing? Intermedia Agenda-setting Between Twitter and Mainstream Media." Journal of Information Technology & Politics: 13 (2): 142-158. https://doi.org/10.1080/19331681.2016.1160263
Sarı, D. 2021. "Kahramanmaraş'ta Yaşayan Kadın Girişimci, Bitcoin (BTC) Karşılığında Gözleme Satıyor." Date of Access: 15.08.2021.
Shead, S. 2021. "Elon Musk Says People Can Now Buy a Tesla With Bitcoin." Date of Access: 11.10.2021.
Sherman, N. and Thomas, D. 2022. "Elon Musk Strikes Deal to Buy Twitter for 44 Billion Dollars." Date of Access: 27.04.2022. https://www.bbc.com/news/business-61222470
Soylu, O. B. 2020. "Türkiye Ekonomisinde Covid-19'un Sektörel Etkileri." Avrasya Sosyal ve Ekonomi Araştırmaları Dergisi: 7 (6): 169-185. https://dergipark.org.tr/tr/pub/asead/issue/55211/750273
Statista, "How Common is Crypto?" (2021). Access Adress: https://www.statista.com/chart/18345/crypto-currency-adoption/
Surane, J. 2018. "Inside the Big Plan to Make Ethereum Go Mainstream." Date of Access: 24.10.2021 https://player-origin.megaphone.fm/BLM2696398548
Turan, Z. 2018. "Kripto Paralar, Bitcoin, Blockchain, Petro Gold, Dijital Para ve Kullanım Alanları." Ömer Halisdemir Üniversitesi İktisadi ve İdari Bilimler Fakültesi Dergisi: 11 (3): 1-5. https://doi.org/10.25287/ohuiibf.431283
Turkcell. 2014. "Turkcell Teknoloji Zirvesi 2014 - Michio Kaku." Date of Access: 14.05.2021. https://www.youtube.com/watch?v=AtLnCmh1gKk
Türkiye Cumhuriyeti Ticaret Bakanlığı, E-Ticaret bilgi platformu kullanıcı bilgileri (2020). (2020). Access Adress: https://www.eticaret.gov.tr/istatistikler#20202
Ünal, G. and Uluyol, Ç. 2020. "Blok Zinciri Teknolojisi." Bilişim Teknolojileri Dergisi: 13 (2): 167-175. https://doi.org/10.17671/gazibtd.516990
Varshney, N. 2021. "Elon Musk Tweets Inspire Investment Decisions of 37% Americans: Survey." Date of Access: 06.08.2021. https://finance.yahoo.com/news/elon-musk-tweets-inspire-investment-094627026.html
Yardımcıoğlu, M. and Şerbetçi, G. 2018. "Bitcoin'in Yapısı ve Yasa Dışı Kullanımı." Al Farabi Uluslararası Sosyal Bilimler Dergisi; 2 (4); 165-190. https://dergipark.org.tr/tr/pub/farabi/issue/41933/466512
Yavuz, C. 2021. "JPMorgan, Yatırımcılara Yeni Bir Kripto Para Hizmeti Sunuyor." Date of Access:11.05.2021. https://www.coinkolik.com/jpmorgan-yatirimcilara-yeni-bir-kripto-para-hizmeti-sunuyor/
Yavuz, N. 2021. "Kripto Parayla Çiğ Köfte Satan Adanalı Esnaf, Elon Musk'ı Davet Etti." Date of Access: 12.11.2021. https://www.coinkolik.com/kripto-parayla-cig-kofte-satan-adanali-esnaf-elon-muski-davet-etti
Yavuz, N. 2021. "Thodex Olayında Detaylar Ortaya Çıkıyor." Date of Access: 21.06.2021. https://www.coinkolik.com/thodex-olayinda-detaylar-ortaya-cikiyor/
Weatherford, J. 2009. The History of Money. New York: Three Rivers Press.
Wright, A. and De Filippi, P. 2015. "Decentralized Blockchain Technology and the Rise of Lex Cryptographia." Social Science Research Network: 19 (5): 92-95. https://doi.org/10.2139/ssrn.2580664