Articles
An integrated approach for fire extinguishers selection with DEMATEL and TODIM methods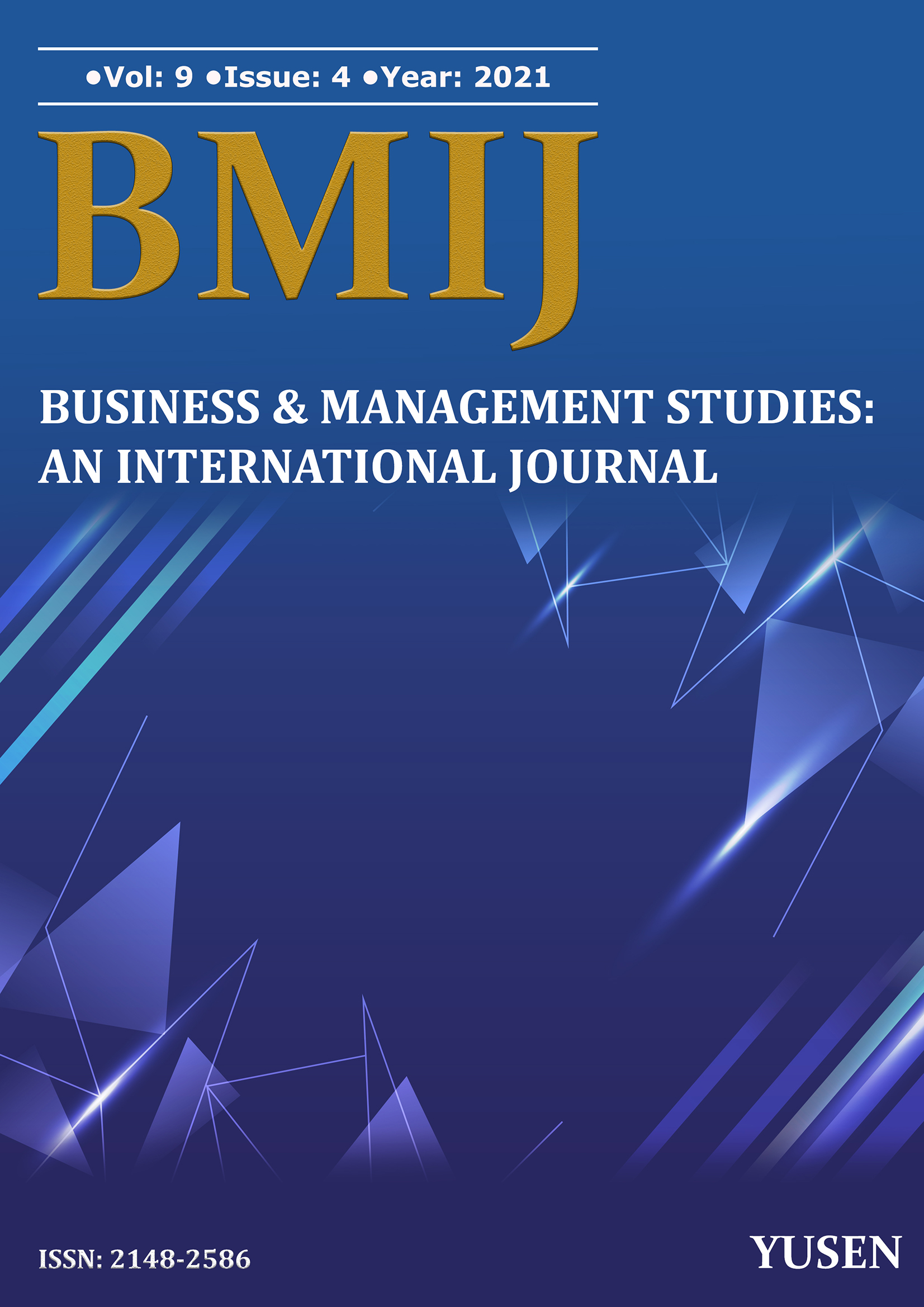 Published 2021-12-25
How to Cite
Ulu, M., & Şahin, H. (2021). An integrated approach for fire extinguishers selection with DEMATEL and TODIM methods. Business &Amp; Management Studies: An International Journal, 9(4), 1696–1707. https://doi.org/10.15295/bmij.v9i4.1928
Copyright (c) 2021 Mesut Ulu- Hasan Şahin
This work is licensed under a Creative Commons Attribution-NonCommercial-NoDerivatives 4.0 International License.
Abstract
Fire is a type of disaster that has caused significant loss of property and life from past to present. If the necessary measures are not taken, they cause serious property damage, interruption of processes, death and injury. Especially in industrial facilities, the density of flammable, explosive and hazardous chemicals, chimneys, hot surfaces, static electricity and electrical hazards, hot work increases the risk of fire. Therefore, necessary precautions should be taken. The choice of extinguisher device, which includes both passive and active precaution in fire safety, provides the correct intervention in case of possible fire. In case of being a fire, it is necessary to quickly and easily extinguish without damaging the system. For this reason, choosing the right extinguisher is important. In this study, effective criteria were determined by negotiating with supplier companies for the selection of suitable fire extinguishers. After scoring for the criteria, the weights of the criteria were determined by DEMATEL method. With TODIM method, appropriate fire extinguishing agent selection and sequencing were made.
Downloads
Download data is not yet available.
References
Adali, E. A., Işik, A. T., & Kundakci, N. (2016). Todim method for the selection of the elective courses. European Scientific Journal, 314-324.
Aksakal, E., & Dağdeviren, M. (2010). An integrated approach for personel selection with dematel and ANP methods. Journal of the Faculty of Engineering and Architecture of Gazi University, 25(4), 905-913
Birgün, S., & Ulu, M. (2020). Site selection for a training centre focused on industry 4.0 by using dematel and copras. In The International Symposium for Production Research, Springer, Cham, 37-50.
Cinar, Y. (2013). A structural model of career preference problem and attitudes towards risk: a hybrid approach based on stochastic dematel method. Sosyoekonomi, 19(19), 157-186
Costa, A.P.C.S., Almeida, A.T. & Gomes, L.F.A.M. (2002). Priorities assignment for information systems based on todim multicriteria method. Informing Science, 322-328.
Demirel, F., Tavman, G., & Yaman M. (2017). Gazi Üniversitesi yeni mimarlık fakülte binasının "binaların yangından korunması hakkında yönetmelik" bağlamında incelenmesi. International Fire and Security Symposium and Exhibition, Istanbul, 313-315.
Efe, B., & Efe, Ö. F. (2016). An application of value analysis for lean healthcare management in an emergency department. International Journal of Computational Intelligence Systems, 9(4), 689-697.
Efe, Ö. F., & Efe, B. (2019). Tekstil sektöründe iş kazalarına sebep olan risk faktörlerinin dematel yöntemiyle analizi. Düzce Üniversitesi Bilim ve Teknoloji Dergisi, 7(3), 1162-1175.
Gomes, L. F. A. M. (2009). An application of the todim method to the multicriteria rental evaluation of residential properties. European Journal of Operational Research, 193(1), 204-211.
Gomes, L. F. A. M., Rangel, L. A. D., & Maranhão, F. J. C. (2009). Multicriteria analysis of natural gas destination in Brazil: an application of the todim method. Mathematical and Computer Modelling, 50(1-2), 92-100.
Gultek, M. (2005). Evaluation of the regulations for shopping centers with atrium in the context of fire safety and simulating the means of egress by the way of sample projects. Unpublished doctoral thesis, Gazi University, Ankara.
Hsu, C. W., Kuo, T. C., Chen, S. H., & Hu, A. H. (2013). Using dematel to develop a carbon management model of supplier selection in green supply chain management. Journal of Cleaner Production, 56, 164-172.
Iplikçi, E. (2006). Analysis of the fire safety measures in buildings and development of performance criteria related to design of buildings with fire safety. Unpublished master's thesis, Gazi University, Ankara
Kilic, M. (2003). Fire safety and fire extinguisher systems in buildings. Uludag University Journal of The Faculty of Engineering, 8(1), 62-69
Kurt, Z. B., & Yildiz, A. (2020). Fuzzy topsis based decision model for evaluating and prioritizing r&d/innovation projects, ar-ge. Electronic Letters on Science and Engineering, 16(2), 93-107.
Li, C. W., & Tzeng, G. H. (2009). Identification of a threshold value for the dematel method using the maximum mean de-entropy algorithm to find critical services provided by a semiconductor intellectual property mall. Expert Systems with Applications, 36(6), 9891-9898.
Liou, J. J., Yen, L., & Tzeng, G. H. (2008). Building an effective safety management system for airlines. Journal of Air Transport Management, 14(1), 20-26.
Mahmoodi, M. & Jahromi, G.S. (2014). A new fuzzy dematel-todim hybrid method for evaluation criteria of knowledge management in supply chain. International Journal of Managing Value and Supply chains (IJMVSC), 5(2), 29-42.
Sen, D. K., Datta, S., & Mahapatra, S. S. (2015). Extension of todim combined with grey numbers: an integrated decision making module. Grey Systems: Theory and Application, 5(3), 367-391.
Tosun, Ö., & Akyüz, G. (2015). A fuzzy todim approach for the supplier selection problem. International Journal of Computational Intelligence Systems, 8(2), 317-329.
Tseng, M.L., Lin, Y.H., Lim, M. K. & Teehankee, B.L. (2015). Using a hybrid method to evaluate service innovation in the hotel industry. Applied Soft Computing, 28, 411–421
Unal, Z. & Cetin, E. I. (2020). Selection of crm software in hospitality industry by integrated dematel and todim method. Pamukkale University Journal of Engineering Sciences, 26(4), 779-788.
Wei, C., Ren, Z., & Rodríguez, R. M. (2015). A hesitant fuzzy linguistic todim method based on a score function. International Journal of Computational Intelligence Systems, 8(4), 701-712.
Yangın güvenliği. (2019, May 2). Erişim adresi http://www.yangin.org/index.asp?s=makale&t=teknik_makaleler
Yildiz, A. & Demir, Y. (2019). Bulanık topsis yöntemiyle Türkiye'nin yerli otomobili için en uygun fabrika yerinin seçimi. BMIJ, 7(4), 1427-1445.
Yildiz, A., & Yayla, A. Y. (2015). Multi-criteria decision-making methods for supplier selection: a literature review. South African Journal of Industrial Engineering, 26(2), 158-177.
Zhang, X. & Xu, Z. (2014). The todim analysis approach based on novel measured functions under hesitant fuzzy environment. Knowledge-Based Systems, 61, 48–58.