Articles
SMART TOURISM AS A MARKETING OPPORTUNITY: THE CASE OF KUŞADASI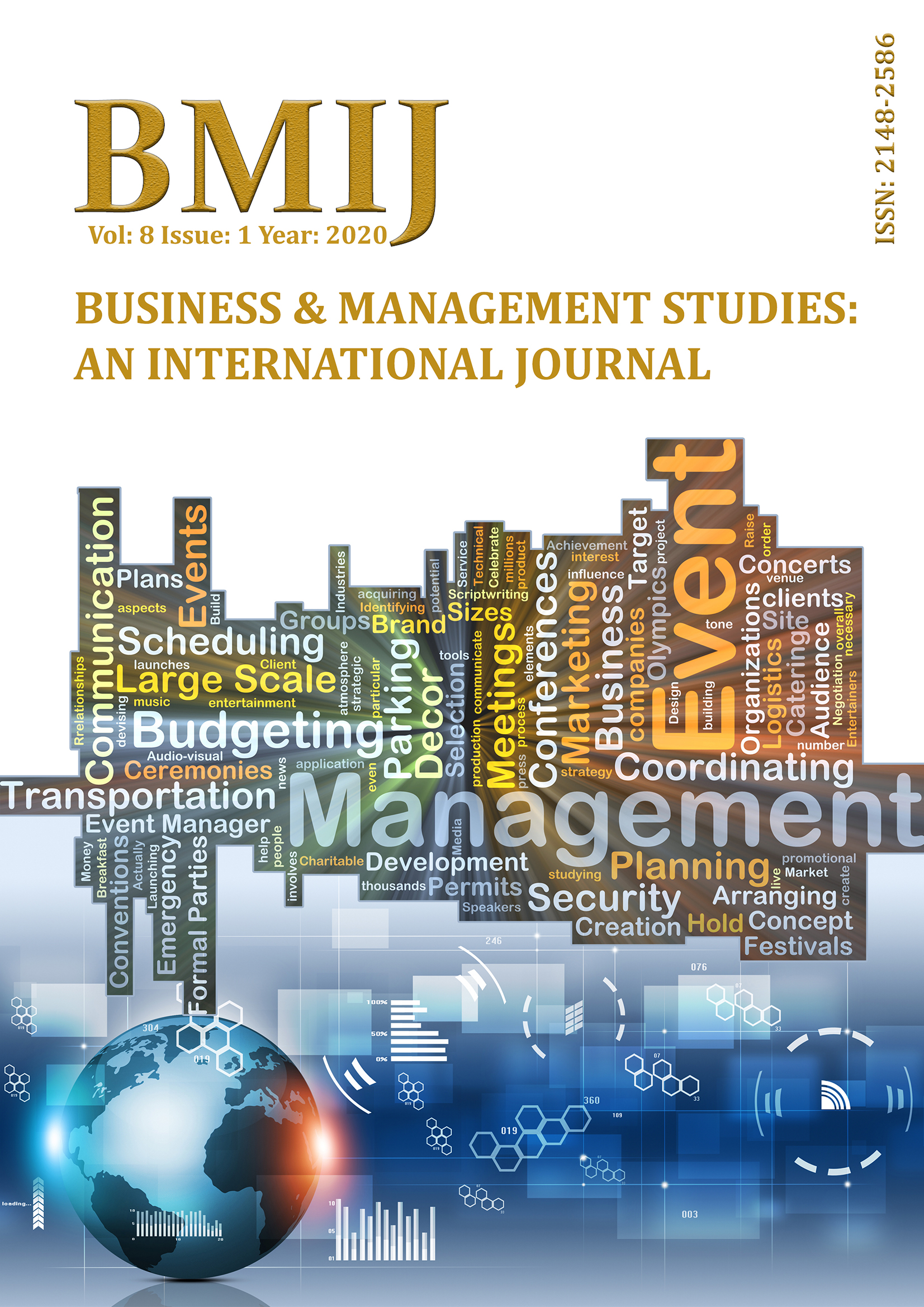 Published 2020-03-25
Keywords
Smart City, Smart Tourism, Kuşadası

Akıllı Şehir, Akıllı Turizm, Kuşadası
How to Cite
YAZICI AYYILDIZ, A., & AYYILDIZ, T. (2020). SMART TOURISM AS A MARKETING OPPORTUNITY: THE CASE OF KUŞADASI. Business & Management Studies: An International Journal, 8(1), 599–623. https://doi.org/10.15295/bmij.v8i1.1411
Abstract
With the technological developments that facilitate human life, concepts such as smart city, smart tourism, smart hotel have emerged. The aim of this study is to examine the smart tourism potential of Kuşadası, to determine the studies conducted in this field and to learn the opinions and evaluations of the tourism stakeholders on the applicability of the smart tourism model in Kuşadası. Within the scope of the study, literature information about the concepts of smart city, smart tourism and smart hotel has been given and the applications of this issue in the world and in Turkey has addressed. Afterwards, research findings were obtained by using semi-structured interview technique with a total of 15 people: 6 hotel managers, 4 professional tourist guides, 3 travel business managers, Kuşadası Municipality and Kuşadası Chamber of Commerce managers. According to the results of this study, it has been determined that Kuşadası is at the bottom rung of the ladder towards being a smart city. In this regard, it has been revealed that Kuşadası Municipality has not developed too many plans, projects, and smart tourism applications have been used mostly by hotel and travel companies.
Downloads
Download data is not yet available.
References
Ataman H. (2018). Akıllı Turizm ve Akıllı Destinasyonlar: Edremit Körfezi'ne Yönelik Bir Uygulama, Balıkesir Üniversitesi, Sosyal Bilimler Enstitüsü, Uluslararası Ticaret ve Pazarlama Anabilim Dalı, Yüksek Lisans Tezi, Balıkesir.
Akıllı Kentler (2019). http://www.akillikentler.org/ (Erişim: 5.10.2019).
Akıllı Şehirler (2019). https://www.akillisehirler.gov.tr/ (Erişim: 20.10.2019).
Buhalis, D. ve Amaranggana, A. (2014). Smart Tourism Destinations. Information and Communication Technologies in Tourism, 553-564.
BSI (2014). İngiliz Standartları Enstitüsü. (Erişim: 10.11.2019).
Cheung, C. W., Tsang I.T. ve Wong, K.H.(2017). Robot Avatar: A Virtual Tourism Robot for People With Disabilities, International Journal of Computer Theory And Engineering, Singapore, Vol.9 No.3, pp.229-234.
Cohen, B. (2012). Toronto Ranks Second In Smartest Cities On The Planet List. https://medium.com/iomob/blockchain-cities-and-the-smart-cities (Erişim: 15.11.2019).
Dameri, R. (2013). Searching for Smart City Definition: A comprehensive proposal. International Journal of Computers & Technology, 11 (5), 2544-2551.
Digitalage (2019). Erişim adresi: https://digitalage.com.tr/akilli-sehir-cozumlerine-ornekler/ 25.10.2019.
Falconer, G. ve Mitchell, S. (2012). Smart City Framework: A Systematic Process for Enabling Smart Connected Communities. Point of View, (9), 11.
Flick, U. (2014). An Introduction To Qualitative Research. New York: Sage
GE Türkiye Blog (2016). Bir Bilim Kurgudan Fazlası: Akıllı Şehirler. https://geturkiyeblog.com/bir-bilim-kurgudan-fazlasiakilli-sehirler (Erişim: 20.10.2019)
Gretzel, U., M. Sigala, Z. Xiang ve C. Koo. (2015). Smart Tourism: Foundations and Developments, Electronic Markets, 25 (3), 179-188.
Gretzel, U., Zhong, L. ve Koo, C. (2016). Application of Smart Tourism to Cities. International Journal of Tourism Cities , 2 (2).
Gökalp, E. ve E. Eren. (2016). Akıllı Teknolojilerin Turizm ve Otelcilik Sektöründe Uygulanması. V. Tecim, Ç. Tarhan ve C. Aydın (Eds.), Akıllı Teknoloji&Akıllı Yönetim içinde, ss. 278-287, İzmir: Gülermat Matbaacılık.
Giffinger, R., Fertner, C., Kramar, H., Kaselek, R., Pichler, N. ve Meijers, E. (2007). Smart cities, ranking of european medium sized cities. Vienna University of Technology. Viyana: Centre of Regional Science, Vienna UT, 1-28.
Huang, C., D., Goo, J., Nam, K. ve Yoo, C. W. (2017). Smart tourism technologies in travel planning: the role of exploration and exploitation. Information & Management, 54(6), 757-770.
Hürriyet Gazetesi (2019) http://www.hurriyet.com.tr/ekonomi/dunyada-bir-ilk-boyle-otel-yok-40994827 (Erişim: 1.12.2019).
ISO/IEC. (2015). Smart Cities - Preliminary Report. Switzerland: ISO.
İzmir Büyükşehir Belediyesi (2019). https://www.izmir.bel.tr/ (Erişim: 11.11.2019).
İstanbul Teknik Üniversitesi Vakfı (2019) http://www.ituvakif.org.tr/ (Erişim: 20.11.2019).
Kaur, K. ve Kaur, R. (2016). Internet of things to promote tourism: An insight into Smart Tourism. International Journal of RecentTrends in Engineering and Research, 2(4), 357–361.
Kayapınar, Y. (2017). Akıllı Şehirler ve Uygulama Örnekleri . İTÜ Vakıf Dergisi (77), 14-19". (Erişim: 25.12.2019).
Kırlar, Can, B., Yeşilyurt, H., Lale Sancaktar, C. ve Koçak, N. (2017) Mobil Çağda Mobil Uygulamalar: Türkiye'deki Yerli Otel Zincirleri Üzerine Bir Durum Tespiti, Journal of Yasar University, 12/45, 60-75 .
Kim, J.Y. ve Canina, L. (2015). An analysis of smart tourism system satisfaction scores: The role of priced versus average quality. Computers in Human Behavior , 50, 610-617.
Lazaroiu G.C., ve Roscia M. (2012). Definition Methodology For The Smart Cities Model. Energy, The International Journal, Volume 47 (1), 326-332.
Leonidis A., Korozi M., Margetis G., Grammenos D. ve Stephanidis C. (2013). Ambient Intelligence: 4th International Joint Conference, Amı, Dublin, Ireland, December 3-5.
Patton, M. Q. (2005). Qualitative Research. New York: John Wiley & Sons, Ltd.
Vodafone, Deloitte, TBV. (2016). Akıllı Şehir Yol Haritası. İstanbul: Türkiye Bilişim Vakfı. (Erişim: 16.11.2019).
Wang, X., X.R. Li, F. Zhen ve Zhang J. (2016). How Smart is Your TouristAttraction: Measuring Tourist Preferences of Smart Tourism Attractions via a FCEM-AHP and IPA Approach. Tourism Management, 54, 309-320.
Turizm News (2019). https://www.turizmnews.com/akilli-otel-uygulamasi-turkiye-de-ilk-kez-isparta-da/12773/ (Erişim: 28.11.2019).
Turizm Global (2019). https://www.turizmglobal.com/turkiyenin-ilk-akilli-otel-uygulamasi-divan-istanbulda-basladi/ (Erişim: 28.11.2019).
Turizm Güncel (2019). https://www.turizmguncel.com/haber/oteller-mobil-uygulamalari-ile-one-cikmak-icin-neler-yapmali-h24893.html (Erişim: 18.11.2019).
Yalçınkaya P., Atay L. ve Karakaş E.(2018). Akıllı Turizm Uygulamaları, Gastroia: Journal of Gastronomy and Travel Research Cilt 2, Sayı 2, 34-52.
Yıldız A. (2019). Akıllı Turizmin Türkiye'de Uygulanabilirliği İstanbul Örneği, Düzce Üniversitesi, Sosyal Bilimler Enstitüsü, Turizm ve Otel İşletmeciliği Anabilim Dalı, Yüksek Lisans Tezi, Düzce.
Yıldırım, A. ve Şimşek, H. (2008). Sosyal Bilimlerde Nitel Araştırma Yöntemleri (6. Baskı). Ankara: Seçkin Yayıncılık.
Yılmaz M. (2019). Konaklama İşletmelerinde Akıllı Turizm Teknolojileri, Erciyes Üniversitesi, Sosyal Bilimler Enstitüsü, Turizm İşletmeciliği Anabilim Dalı, Yüksek Lisans Tezi, Kayseri.
Yüce B. ( 2015). Beş Yıldızlı Otel Yatak Odalarında Akıllı Sistemlerin Kullanımı, Haliç Üniversitesi, Fen Bilimleri Enstitüsü, İç Mimarlık Anabilim Dalı, Yüksek Lisans Tezi, İstanbul.
Zhu W., Zhang L. ve Li N. (2014). Challaenges, Function Changing of Government and Enterprises in Chinese Smart Tourism.