Articles
OPINIONS OF GENERATION Y EMPLOYEES ABOUT THE PSYCHOLOGICAL CONTRACT BREACH OF EMPLOYERS: A QUALITATIVE ANALYSIS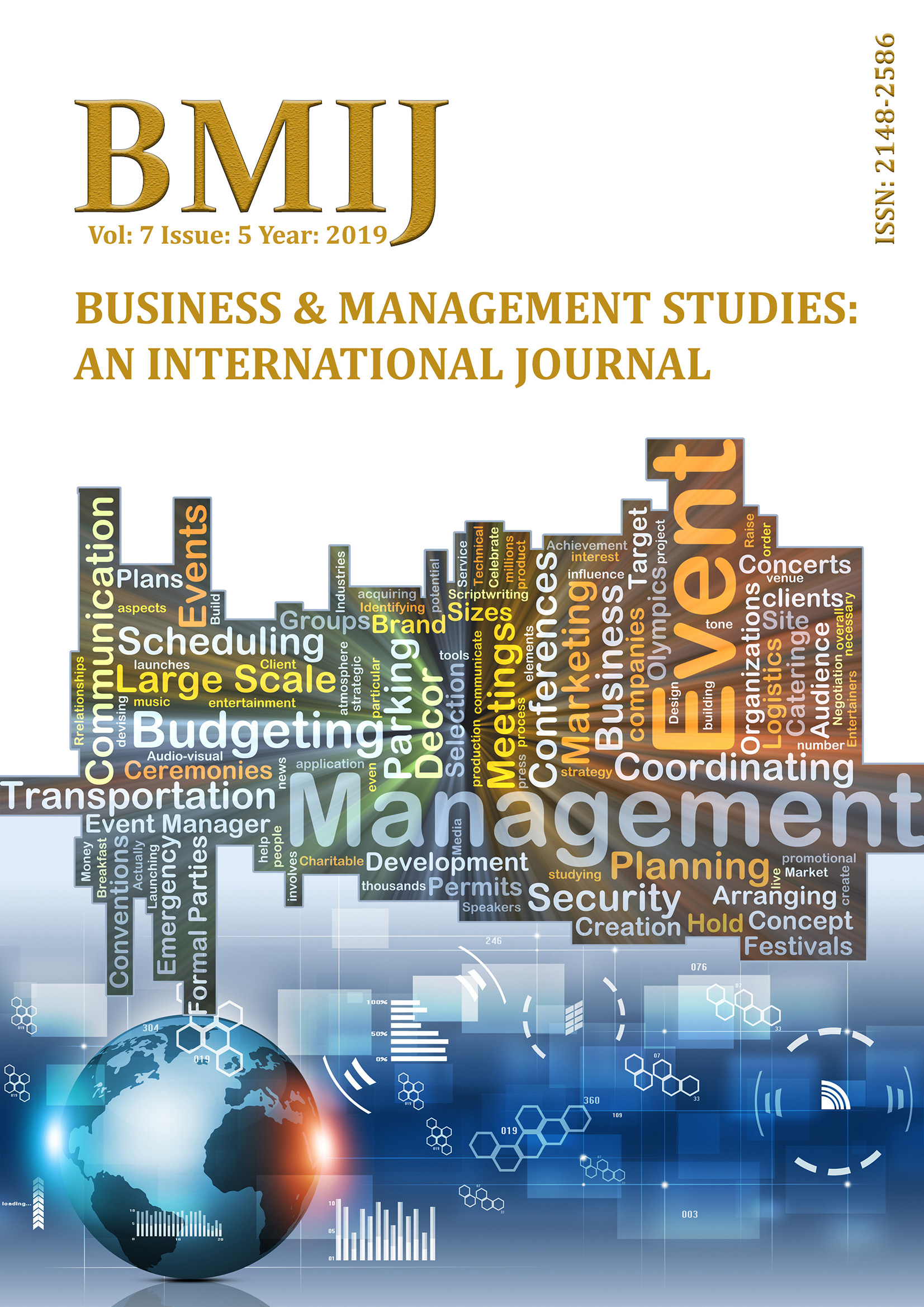 Published 2019-12-25
Keywords
Generation Y, Psychological Contract, Psychological Contract Breach, Qualitative Analysis

Y Kuşağı, Psikolojik Sözleşme, Psikolojik Sözleşme İhlali, Nitel Analiz
How to Cite
İLHAN, Ümit D., & KÜMBÜL GÜLER, B. (2019). OPINIONS OF GENERATION Y EMPLOYEES ABOUT THE PSYCHOLOGICAL CONTRACT BREACH OF EMPLOYERS: A QUALITATIVE ANALYSIS. Business & Management Studies: An International Journal, 7(5), 2925–2944. https://doi.org/10.15295/bmij.v7i5.1367
Abstract
In this study, it is aimed to get the opinions of Generation Y employees about the psychological contract breach of employers. Qualitative research method was adopted in the study and 35 white and blue collar employees (%48,6 white-collar employees, %51,4 blue-collar employees) from two enterprises operating in the food sector in İzmir were interviewed. According to the results of the study, the opinions of Generation Y employees about  the psychological contract breach of employers were determined under 3 main themes. These are: 1) Opinions about management, 2) Opinions about relationships, 3) Opinions about working conditions. The sub themes identified under the first main theme are "fair management", "recognition and appreciation", "leading manager" and "mutual dedication". The sub themes identified under the second main theme are "horizontal relationship" and "boundaryless information flow". Finally, "work-life balance", "personal and professional development opportunuties", "career management"and "satisfying wages and benefits"sub themes are identified under the third main theme. In line with these findings, it can be suggested that expectations of these themes should be met by the employer as much as possible so that employees of Generation Y do not take an attitude regarding the pyschological contract breach.
Downloads
Download data is not yet available.
References
Argyris, C. (1960), Understanding Organizational Behavior, Oxford: Dorsey Press.
Budd, J. W. (2004), Employment With a Human Face: Balancing Efficiency, Equity and Voice, Ithaca, NY: Cornell University Press.
Budd, J. W. (2016), Çalışma Düşüncesi, (Çev. F. Man). İstanbul: Ayrıntı Yayınları.
Cennamo, L. ve Gardner, D. (2008), "Generational Differences in Work Values, Outcomes and Person-Organisation Values Fit", Journal of Managerial Psychology, 23(8), 891-906.
De Hauw, S. ve De Vos, A. (2010), "Millennials' Career Perspective and Psychological Contract Expectations: Does the Recession Lead to Lowered Expectations?", Journal of Business and Psychology, 25(2), 293-302.
Forret, M. L. ve Sullivan, S. E. (2002), "A Balanced Scorecard Approach to Networking: A Guide to Successfully Navigating Career Changes", Organizational Dynamics, 31(3), 245-258.
Gouldner, A. W. (1960), "The Norm of Reciprocity: A Preliminary Statement", American Sociological Review, 25(2), 161-178.
Levinson, H., Price, C., Munden, K., Mandl, H. ve Solley, C. (1962), Men, Management, and Mental Health, Cambridge, MA: Harvard University Press.
Lub, X., Bijvank, M. N., Matthijs Bal, P., Blomme, R. ve Schalk, R. (2012), "Different or Alike? Exploring the Psychological Contract and Commitment of Different Generations of Hospitality Workers", International Journal of Contemporary Hospitality Management, 24(4), 553-573.
Lyons, S. T. (2003), An Exploration of Generational Values in Life and at Work. (Doctoral dissertation). Retrieved from https://curve.carleton.ca/c3cc861c-e720-47a1-a33f-e8d570474474
Maia, L. G. ve Bastos, A. V. B. (2015), "Organizational Commitment, Psychological Contract Fulfillment and Job Performance: A Longitudinal Quanti-Qualitative Study", BAR-Brazilian Administration Review, 12(3), 250-267.
Morrison, E. W. ve Robinson, S. L. (1997), "When Employees Feel Betrayed: A Model of How Psychological Contract Violation Develops", Academy of Management Review, 22(1), 226- 256.
Nadin, S. J. ve Williams, C. C. (2012), "Psychological Contract Violation Beyond an Employees' Perspective", Employee Relations, 34(2), 110-125.
Omay, U. (2017). Post Homo Servus, İstanbul: Beta Basım Yayım Dağıtım A.Ş.
Pinzaru, F.,Vatamanescu, E. M., Mitan, A., Savulescu, R., Vițelar, A., Noaghea, C. ve Balan, M. (2016). "Millennials at Work: Investigating the Specificity of Generation Y Versus Other Generations", Management Dynamics in the Knowledge Economy, 4(2), 173-192.
Robinson, S. L., Kraatz, M. ve Rousseau, D. M. (1994), "Changing Obligations and the Psychological Contract: A Longitudinal Study", Academy of Management Journal, 37: 137-152.
Robinson, S. L. ve Morrison, E. W. (1995), "Organizational Citizenship Behavior: A Psychological Contract Perspective", Journal of Organizational Behavior, 1, 289-298.
Rousseau, D. M. (1990), "New Hire Perceptions of Their Own and Their Employer's Obligations: A Study of Psychological Contracts", Journal of Organizational Behavior, 11, 389-400.
Rousseau, D. M. (1995), Psychological Contract in Organisation: Understanding Written and Unwritten Agreement, USA: Sage Publication.
Schein, E. H. (1965), Organizational Psychology, Englewood Cliffs, NJ: Prentice Hall.
Sharabi, M. ve Harpaz, I. (2007), "Changes in Work Centrality and Other Life Areas in Israel: A Longitudinal Study", Journal of Human Values, 13(2), 95-106.
Smola, K. W. ve Sutton, C. D. (2002), "Generational Differences: Revisiting Generational Work Values for the New Millennium", Journal of Organizational Behavior, 23, 363-382.
Strauss, W. & Howe, N. (1991), Generations: The History of America's Future, 1584 to 2069, New York: William Morrow.
Sturges, J., Conway, N., Guest, D. ve Liefooghe, A. (2005), "Managing the Career Deal: The Psychological Contract as a Framework for Understanding Career Management, Organizational Commitment and Work Behavior", Journal of Organizational Behavior, 26(7), 821-838.
Tulgan, B., (2009), Managing Generation X, New York: W.W. Norton Publishing.
Vasantha, S. (2016), "Assessing Psychological Contract in the Generational Workforce", Indian Journal of Science and Technology, 9(32), 1-6.
Wu, J. B., Hom, P. W., Tetrick, L. E., Shore, L. M., Jia, L., Li, C. ve Song, L. J. (2006), "The Norm of Reciprocity: Scale Development a Validation in the Chinese Context", Management and Organization Review, 2(3), 377-402.