Articles
ARE ONLINE BETTING SITES OR ONLINE GAMBLING SITES?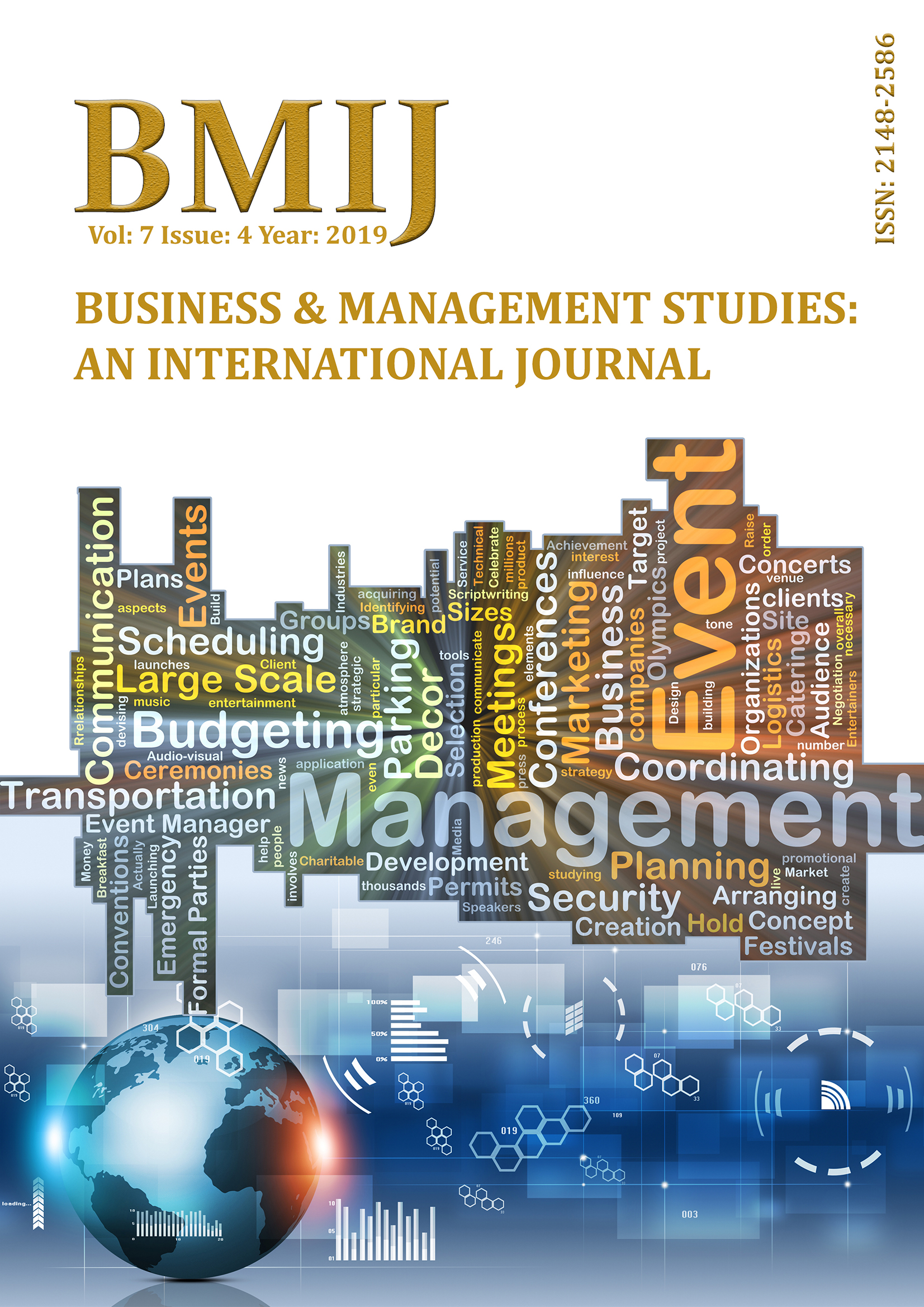 Published 2019-09-22
Keywords
Online Betting Sites, Online Gambling Sites, Criminal Sanctions

Sanal Bahis Siteleri, Online Kumar Siteleri, Cezai Yaptırımlar
How to Cite
AKÇA, Y. (2019). ARE ONLINE BETTING SITES OR ONLINE GAMBLING SITES?. Business & Management Studies: An International Journal, 7(4), 1446–1466. https://doi.org/10.15295/bmij.v7i4.1180
Abstract
Gambling is forbidden in Turkey, but betting games are free. Therefore, criminal sanctions are imposed for gambling. Betting games are increasing their activities under the legal umbrella day by day. Society's interest in the games in question is also increasing over time. In this study, bilyoner.com, nesine.com, misli.com, oley.com, tuttur.com, and birebin.com, which have an electronic dealership contract, were investigated. The State organizes betting games through its National Lottery Administration, Sports Toto Organization and the Jockey Club of Turkey. Games of betting have one name, which is gambling. The ease of access to online betting sites over the internet also enhances the frequency of playing these games. Online betting sites should also be covered by the ban to protect the health of the community. Access to the sites that legal play online betting games must be prohibited. This paper reviews the field works as a research method.
Downloads
Download data is not yet available.
References
Abbot, M., Binde, P., Clark, L., Hodgins, D., Johnson, M., Manitowabi, D., Qilty, L., Spanberg, J., Volberg, R., Walker, D. ve Williams, R. (2018). Conceptual framework of harmful gambling: an international collaboration, Third Edition, Ontario: Gambling Research Exchange Ontario, hhtps://doi.org/10.33684/CFHG3.en
Arcan. K. ve Karancı, A.N. (2014). Kumar oynama nedenleri ölçeğinin uyarlama, geçerlilik ve güvenilirlik çalışması, Journal of Psychiatry, 15 (3), 248-256. doi: 10.5455/apd.48431
Bayındır, G. (2018). Kumar ve şans oyunlarına toplumsal bakış: Niğde örneği, Milli Kültür Araştırmaları Dergisi (MİKAD), 2 (2), 58-83.
Çakıcı, M., Çakıcı, E., Karaaziz, M., ve Babayiğit, A. (2019). KKTC'de kumar yaygınlığı, risk etkenleri ve kültür tutumları ile ilişkisi: 2007-2014, Anadolu Psikiyatri Dergisi, 20 (4), 395-403
Çelik, A. (2016). Spor Bahis Oyunlarına Katılımı Etkiyen Faktörler Sportif Bakış: Spor ve Eğitim Bilimleri Dergisi, 3 (2), 89-98.
Çoban, A. (2014). Davranışsal bir bağımlılık: kumar bağımlılığı, Yeşilay Dergisi, Sayı: 967, 30-35.
Dilek, S.E. (2018). Şans oyunları turizme katılım motivasyonlarından biri olabilir mi?. Journal of Tourism Theory and Research, 4 (2), 111-121. DOI: 10.24288/jttr.422884
Duman, B.B. ve Tosun, C. (2017). An evaluation on the illegal betting market in Turkey, İçinde: The New Trends and Policies in Public Finance, Editors: Özgür Emre Koç & Neslihan Koç, Beau Bassin/Maritus: LAP Lambert Academic Publishing, 42-58.
Gainsbury, S.M., Blankers, M., Wilkinson, C., Offermans, K.S. ve Cousijn, J. (2014). Recommendations for international gambling harm-minimisation guidelines: comparison with effective public health policy, Journal of Gambling Studies, 30, 771- 788. doi: 10.1007/s10899-013-9389-2
Gürsu, O. (2018). Madde bağımlılığı ve din: HİGED örneği, Addicta, 5(1), 37-54
Karaman, İ. (2014). Küçümsenen büyük tehlike: şans oyunları ve kumar, Yeşilay Dergisi, Sayı: 967, 6-7.
Masogo, M.P. ve Mofokeng, J.T. (2018). An analysis on illegal online gambling activities: the comparative study within the Gauteng, North West and Limpopo Provinces, International Journal of Social Sciences and Humanity Studies, 10 (1), 33-48.
Ministry of Health (2016). Strategy to prevent and minimise gambling harm, Wellington/New Zelland, www.health.govt.nz
Ozsoy, S., Gelen, N.K., Kandaş, N.T., Tabuk, M.E., Görün, L. ve Afat, A. (2014). Lise ve üniversite öğrencilerinin spor medyasını izleme ve bahis oyunu oynama alışkanlıkları, Erciyes İletişim Dergisi "Akademia", 3 (3), 120-130
Petek, R. (2014). Türk Hukuku'nda kumar ve şans oyunları. Yeşilay Dergisi, Sayı: 967, 42-45
Randolph, J.J. (2018). Tez yazımı için bir alanyazın taraması kılavuzu, Anatolia: Turizm Araştırmaları Dergisi, 29 (2), 251 – 264. https://dergipark.org.tr/download/article-file/582127
Remote Gambling Assocation (2016). Regulation of Online Betting Market in Poland, Warszawa: Roland Berger. www.rolandberger.com
Salman, R. (2016). Bilgisayar, internet ve şans oyunları bağımlılığı, Hannover. www.ms.niedersachsen.de
Sönmez, Y.Ü. ve Varol, A. (2018). Review of illegal betting as financial crime in web forensics, 6th International Symposium on Digital Forensic and Security (ISDFS), 22-25 March 2018, Antalya, Conference Paper Publisher: IEEE, 1-5. doi: 10.1109/ISDFS.2018.8355387
Şahin, E. (2011). Hukukumuzda kumar/şans oyunları, https://docplayer.biz.tr/3198624-Hukukumuzda-kumar-sans-oyunlari-hazirlayan-av-emir-sahin.html (erişim tarihi 20.05.2019)
Türkiye Diyanet Vakfı (TDV) İslam Ansiklopedisi (2014). Kumar maddesi, 364-367.
Ünal, N. (2010). Kur'an'da meysir kavramı ve günümüzdeki bazı kumar türlerinin bu çerçevede değerlendirilmesi, Din Bilimleri Akademik Araştırma Dergisi 10 (3), 247-265.
Vayısoğlu, S.K.; Öncü, E. ve Güven, Y. (2019). Üniversite öğrencilerinde kumar oynama sıklığı ve heyecan arama davranışı ile ilişkisi, Addicta, 6(1), 69-90.
Yargıç, İ. (2014). Davranışsal bir bağımlılık: kumar bağımlılığı, Yeşilay Dergisi, Sayı: 967, 26-29
Yaşar, M.R. (2010). Şans oyunları ve iddaa, Elektronik Sosyal Bilimler Dergisi, 9 (34), 138-171.
http://sportoto.gov.tr/sayfa/100/elektronik-bayiler (erişim tarihi 16.06.2019)
http://sportoto.gov.tr/sayfa/89/iddaa-nasil-oynanir-?- (erişim tarihi 16.06.2019)
http://www.dol.com.tr/nesine.html (erişim tarihi 18.06.2019)
http://www.hitay.com/tr/yatirimlarimiz/bilyoner.com (erişim tarihi 14.06.2019)
http://www.hurriyet.com.tr/gundem/kumarbaz-memuru-da-kanarya-oyundan-atti-14198600 (erişim tarihi 18.06.2019)
http://www.hurriyet.com.tr/kumar-tutkusu-yuzunden-evdeki-esyalari-bile-satiyor-17858453 (erişim tarihi 18.06.2019)
http://www.resmigazete.gov.tr/eskiler/2009/02/20090228-12.htm (erişim tarihi 10.06.2019)
https://www.oranlarlakazan.com/bahis-terimleri-ve-anlamlari.php (erişim tarihi 20.06.2019)
https://www.oranlarlakazan.com/yasal-bahis-siteleri.php (erişim tarihi 20.06.2019)
www.bilyoner.com (erişim tarihi 10.06.2019)
www.birebin.com (erişim tarihi 08.06.2019)
www.birebin.com/kurumsal/sorumlu-bahis?sorumlu-bahis (erişim tarihi 08.06.2019)
www.millipiyango.gov.tr (erişim tarihi 16.06.2019)
www.misli.com (erişim tarihi 19.06.2019)
www.nesine.com (erişim tarihi 15.06.2019)
www.oley.com (erişim tarihi 16.06.2019)
www.tdk.gov.tr (erişim tarihi 23.06.2019)
www.tuttur.com (erişim tarihi 27.06.2019)