Articles
STOCK MARKET REACTIONS TO REGULATORY EVENTS ON EMISSION TRADING: EVIDENCE FROM THE EUROPEAN AIRLINE INDUSTRY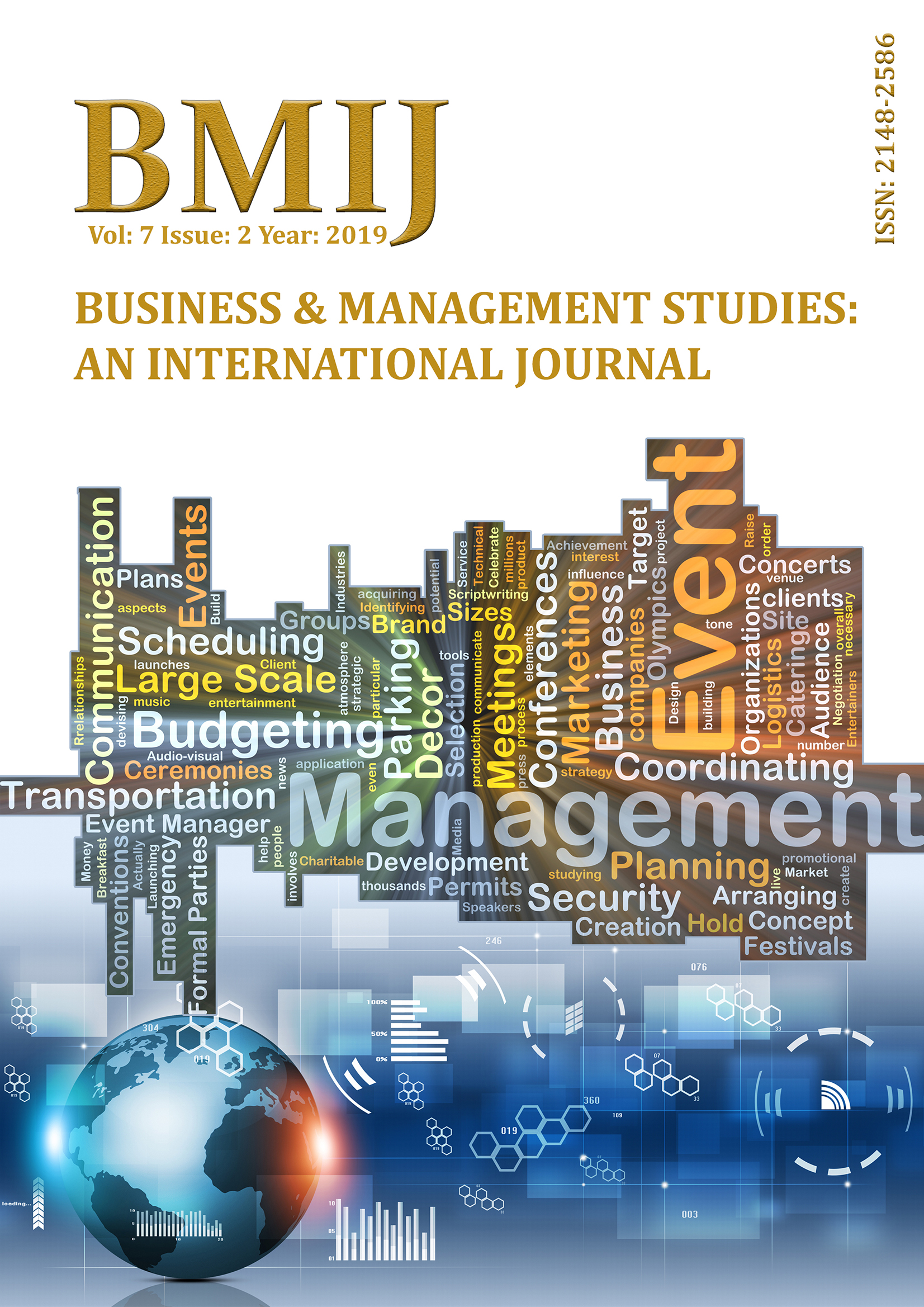 Published 2019-06-26
Keywords
European Union emission trading scheme, Stock market reactions, Event-study methodology, Airline industry.

Avrupa Birliği emisyon ticareti sistemi, Hisse senedi piyasası tepkisi, Olay analizi metodolojisi, Havayolu sektörü.
How to Cite
ÖZCAN, İsmail Çağrı. (2019). STOCK MARKET REACTIONS TO REGULATORY EVENTS ON EMISSION TRADING: EVIDENCE FROM THE EUROPEAN AIRLINE INDUSTRY. Business & Management Studies: An International Journal, 7(2), 1061–1075. https://doi.org/10.15295/bmij.v7i2.1104
Abstract
The inclusion of international aviation emissions into the European Union Emission Trading Scheme starting from 2012 is expected to bring additional costs to flights having either origins or destinations at a European Union airport. In turn, this should bring new costs to airlines. The aim of this paper is to analyze how financial markets reacted to the official announcements on this regulatory change. Our findings, using an event-study methodology and employing a sample of 20 European airlines' stocks, reveal that the stock markets tend not to take these regulatory changes into account in the valuation of the European airlines' stocks. We also document that the magnitude of the reaction of low-cost airlines is not statistically significant than that of full-service network airlines' reaction.
Downloads
Download data is not yet available.
References
Albers, S., Buhne, J.A., & Peters, H. (2009). Will the EU-ETS instigate airline network reconfigurations? Journal of Air Transport Management, 15(1), 1-6.
Anger, A., & Kohler, J. (2010). Including aviation emissions in the EU ETS: Much ado about nothing? Transport Policy, 17, 38–46.
Bosch, J.C., Eckard, E.W., & Singal, V. (1998). The Competitive Impact of Air Crashes: Stock Market Evidence. Journal of Law and Economics, 41, 503-519.
Carter, D.A., & Simkins, B.J. (2004). The market's reaction to unexpected, catastrophic events: the case of airline stock returns and the September 11th attacks. The Quarterly Review of Economics and Finance, 44, 539–558.
Commission of the European Communities. (2005). Reducing the Climate Change Impact of Aviation, COM (2005) 459 final, Brussels.
Commission of the European Communities. (2006). Proposal for a Directive of the European Parliament and of the Council amending Directive 2003/87/EC so as to include aviation activities in the scheme for greenhouse gas emission allowance trading within the Community, COM (2006) 818 final, Brussels.
Drakos, K. (2004). Terrorism-induced structural shifts in financial risk: airline stocks in the aftermath of the September 11th terror attacks. European Journal of Political Economy, 20, 435–446.
Fama, E.F. (1976). Foundations of Finance, New York, Basic Books.
Fama, E.F., Fisher, L., Jensen, M.C., & Roll, R. (1969). The adjustment of stock prices to new information. International Economic Review, 10, 1-21.
Flouris, T., & Swidler, S. (2004). American airlines' takeover of TWA: an ex-post analysis of financial market information. Journal of Air Transport Management, 10, 173–180.
Friesen, M. (2005). Capital Market's Assessment of European Airline Mergers and Acquisitions–The Case of Air France and KLM. 5th Swiss Transport Research Conference.
Givoni, M., & Rietveld, P. (2010). The environmental implications of airlines' choice of aircraft size. Journal of Air Transport Management, 16(3), 159-167.
Ibitz, A. (2015). Towards a global scheme for carbon emissions reduction in aviation: China's role in blocking the extension of the European Union's Emissions Trading Scheme. Asia Europe Journal, 13(2), 113-130.
Knapp, W. (1990). Event Analysis of Air Carrier Mergers and Acquisitions. The Review of Economics and Statistics, 72, 703-707.
Lu, C. (2009). The implications of environmental costs on air passenger demand for different airline business models. Journal of Air Transport Management, 15, 158-165.
Macintosh, A., & Wallace, L. (2009). International aviation emissions to 2025: Can emissions be stabilised without restricting demand? Energy Policy, 37, 264-273.
Mayor, K., & Tol, R.S.J. (2010). The impact of European climate change regulations on international tourist markets. Transportation Research Part D, 15, 26-36.
Morrel, P. (2007). An evaluation of possible EU air transport emissions trading scheme allocation methods. Energy Policy, 35, 5562-5570.
Morrel, P. (2009). The potential for European aviation CO2 emissions reduction through the use of larger jet aircraft. Journal of Air Transport Management, 15, 151-157.
Scheelhaase, J. D., & Grimme, W. G. (2007). Emissions trading for international aviation—an estimation of the economic impact on selected European airlines. Journal of Air Transport Management, 13(5), 253-263.
Scheelhaase, J., Grimme, W., & Schaefer, M. (2010). The inclusion of aviation into the EU emission trading scheme–Impacts on competition between European and non-European network airlines. Transportation Research Part D: Transport and Environment, 15(1), 14-25.
Scheelhaase, J., Schaefer, M., Grimme, W., & Maertens, S. (2012). Cost impacts of the inclusion of air transport into the European emissions trading scheme in the time period 2012-2020. European Journal of Transport and Infrastructure Research, 12(4), 332-348.
Singal, V. (1996). Airline Mergers and Competition: An Integration of Stock and Product Price Effects. The Journal of Business, 69, 233-268.
Zhang, A., & Aldridge, D. (1997). Effects of Merger and Foreign Alliance: An Event Study of the Canadian Airline Industry. Transportation Research Part E: Logistics and Transportation Review, 33, 29-42.